SKILLED ASSISTANCE AT YOUR LOCATION
On-Site Packaging and Crating Services in Dallas
Some items are too fragile, heavy, oversized, or awkward to move without cushioning, stabilizers, or the proper containerization. If that's the case, our on-site crating team can come to your location.
We offer an array of on-site packaging and crating services, always using the same high-quality materials, spec-driven software, and level of integrity to design and engineer your packaging wherever you need us to. We know your assets are valuable, and you don't want to jeopardize their safety; let us come to you.
Our Dallas crating experts have everything we need to travel to your business or residence and build a custom crate with tailored packaging for items that need special care.
Custom Crates at Your Doorstep
Our Dallas crating team provides turnkey crating solutions for customers who need crates brought to their facility. If you'd like us to design crates to meet the needs of your assets, give us the specs and tell us your goals, we'll handle the rest.
Whatever you need to crate, we have the means to deliver custom containers directly to your door, simplifying your shipping or storage project.
Learn more about our crating services and contact us to discuss how we can be of help.
If your items don't need the protection our crates offer, ask us about our custom pallets and skids. We're confident that we have the solutions you're looking for.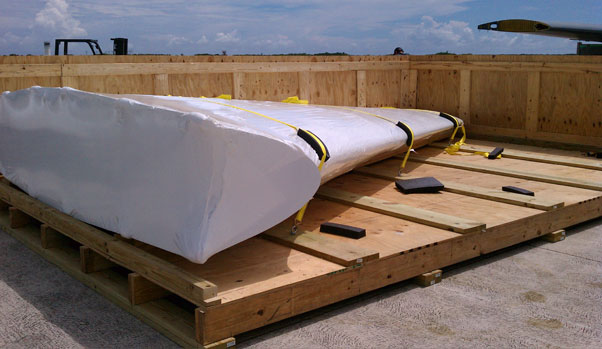 Professional Packaging at Your Location
It's important that you keep your assets safe at all times, and working with a shipping company that understands that means you'll get services that other shipping companies don't offer. When professionals come to your facility to design crates on-site, you know you're dealing with a team that genuinely cares about the safety of your items.
Whether you're moving personal, sentimental valuables from your residence or want your oversized, hazardous, or sensitive items to be moved with confidence, on-site packaging is the most responsible, reliable method.
On-Site Packaging and Crating Services
When you're looking for an on-site crating company near you, you want to ensure you're working with a distinguished shipping company that has the experience and dedication to get your job done right.
Comprehensive services, logistics experts, and above-par customer support are what make Craters & Freighters industry leaders. We have a global reach and stellar reputation. Let us handle your on-location packaging and crating project.
Some of the solutions we can provide at your location include:
Industries We Work With
Your business needs your attention, and you can't afford missteps when it comes to your shipping projects. We work with several industries, helping them with everything from domestic shipping to international shipping to white-glove services to on-site crating.
Some common industries and organizations we work with include:
Let us be accountable for all of your shipping requirements. We have the professionals, insight, and equipment to safely manage your job from start to finish. If you think your project is too challenging, contact us, we like a challenge.
Get a fast, free, no-obligation cost estimate from Craters & Freighters Dallas.
Provide some information on your needs and we'll get back to you right away with a figure you can use in your planning.